In this 1912 postcard of Main Street in Four Oaks, there are only three Model T's parked by the railroad crossing. Over a hundred years later, despite the pavement and the crossing guards, Main Street Four Oaks is still recognizable, though the traffic is a little heavier.  Then and now, rural railroad towns like Four Oaks appreciate, more than most; the mobility, productivity, and freedom offered by cars and motorcycles. With ninety entrants, the car show on March 26 put this appreciation on full display. After the weather postponed last year's show, the Chamber is deeply grateful that our 2021 sponsors joined our 2022 sponsors to make this year's show a success.
Special thanks to…
Keene & Associates for co-hosting the event
Practical Defense Solutions and Den Underground for the trophies and participant plaques
Tired Iron for sponsoring the swap meet
Angel Oaks Home Loan for the entertainment
…and a special thank you to all our Chamber members and Board Directors who volunteered to make the event a success.    
Winner of the 1940-49 Class
Dwight Bass
Dodge Coupe
Winner of the 1950-59 Class
Butch Penny
1957 Corvette
Winner of the 1960-69 Class
Darrell McNeal
1969 Camaro
Winner of the 1970-79 Class
Ryan Wall
1970 Challenger
Winner of the 1980 & Up Class
Dennis Bosak
2009 Mustang
Best Custom Car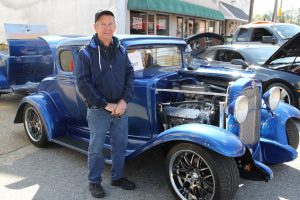 Jim Creech
31 Chevy Tudor
Best Standard Motorcycle
Eric Stainbrook
Harley V-Rod.
Best Vintage Motorcycle
Dave Mims
1924 Harley
Best Car/Truck of Show,
Thomas Parrish
1970 Buick GSX
People's Choice Award, Motorcycle
Dave Mims
1924 Harley
People's Choice Award, Car or Truck
Dustin & Robbie Norris
2018 ZL-1 Camaro
Club Participation,
Most car entries
Southland Car Club
---
Show Judges
Bill Giammo – Judge & Announcer
Mike Poole
Milan Poole
Luther Marshall
Art Jenson
Mark Hood
Jerry Johnson
Tim Dean
Mark Capri